All pictures are under copyright.
---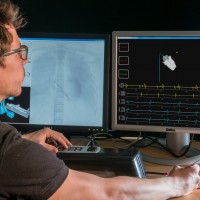 Simulator for electrocardiology training
This simulator has been developed at the end of my Ph.D. It includes two main steps: a catheter navigation in the cardiovascular system, and a second step of electrophysiology mapping. Using an hybrid (CPU-GPU) multihreaded architecture, this training system ensures a high level of interactivity and realism.